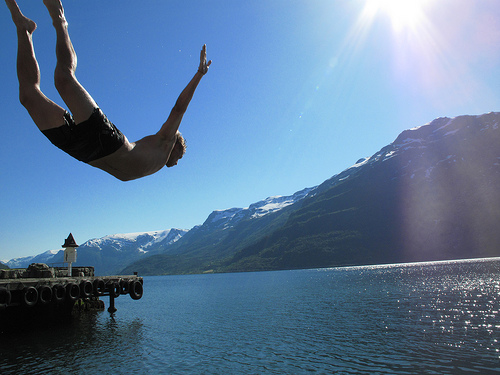 We all know Hans Christian Anderson's timeless tale of the Ugly Duckling.
The little guy had a big problem.  He didn't fit in.   He was a terrible duck, in every way.  He couldn't do duck things well at all, no matter how hard he tried. When the heads of the duck evaluation committee all got together to make an assessment, he was deemed a complete failure.
But in the end, it turned out that there was nothing wrong with him at all!  The problem was not his inability to succeed as a duck.  The problem was that he was even being evaluated as a duck in the first place.
All that time he wasted trying to be a better duck and live a happy duck life would have been so much better spent on becoming the amazing and beautiful SWAN that he was born to be!
Where in your life are YOU like the ugly duckling?
Are you living a life that YOU were uniquely designed to live, that truly lights you up and excites you each day?  Or are you just going through the motions?
Do you have a job that you love and are you using your gifts and talents to serve the world?  Or are you just moving through the same old lifeless daily routine of doing laundry, sleeping, eating, and putting in hours to collect a paycheck?
One of my favorite activities that we do in my WingBuilder LEAP Workshop – Launch your Excellence, Activate your Passion, is called the SWAN Dive – Serve the World in your Authentic Niche.
It's a deep dive into discovering what uniquely makes you the person you are and what you were born to be and do in the world.  By exploring all that your are and all that you love, you are then positioned to make intentional choices about how to make a positive life lift and/or career shift that will make your heart sing.
Here are some questions get you started on your on SWAN Dive:
1.  How does your personality affect your life and career choices?
2.  What kind of environment are you best suited for in life and in work?
3.  What are some of your strengths, skills, and talents?
4.  What activities, interests, and passions make you come alive?
5.  What are your deepest values?  Do your life and career align with them?
Take some time today to write down your answers to these questions in a journal.   What patterns do  you notice in what you have written?   Is the life your living today a life that makes you feel that your best, most authentic gifts are useful and welcomed?  Or are you still swimming around hopelessly in someone else's duck pond?   Tell that swan baby in your heart that it's time to get out of there right now and life a life you were designed for!
For more tips and tools to help you create a positive life lift or career shift, enter your name and email below, and join our WingBuilder community today!